1/1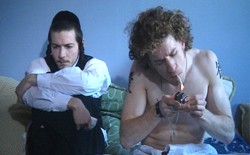 ---
MENDY
NY Premiere
Cast:Ivan Sandomire, Gabriela Dias, Spencer Chandler, Jonathan Hova, Deana Barone
Crew:Producer: Adam Vardy - Screenwriter: Adam Vardy, Heshey Schnitzler - Editor: Heather Spilkin - Cinematographer: Gary Griffin - Original Score: - Exec Producer: Donald Rabinovitch, Dardo Toledo Barros
Sales:Adam Vardy, c/o Sorsky Films, New York, NY - T: 212.932.8255
Email:nyvardy@verizon.net
Synopsis
Mendy is a young Hassid, a devout member of an ultra orthodox Jewish sect. His insular and extreme upbringing do not prepare him for the impossible transition into the "sinful" secular world. Brooklyn is a bridge length away from Manhattan, but might as well be a world away. This is the story of Mendy as he leaves behind his friends, family and Old World views and struggles to adapt and find his place in modern secular society.
Trailer
About the director
Born and raised in Israel, Adam Vardy attended the Sam Spiegel Jerusalem Film & Television School between the years 1990 & 1993. His short film titled 'Pirouette' won first prize at the 1996 Potsdam International Film Festival in Germany. Mr. Vardy has resided in New York City since 1994, where he works as a cinematographer. He has acted as Director of Photography on independent features, and is hired regularly to shoot documentaries and TV magazine shows such as CBS's 60 Minutes. In July 1997 a front page 'expose' appeared in "The Village Voice" describing the moving plight of seven hasidic youngsters seeking freedom in the larger world. After meeting some of these young men and women Mr. Vardy was so captivated by there stories that he was moved to write 'Mendy', his first full-length feature film as a writer & director.
Notes
The director, Adam Vardy, and the three lead actors, Ivan Sandomire, Gabriela Dias and Spencer Chandler, will be available for Q&A after the screening. Other New York City based members of the crew and cast might also attend.
Related links