1/1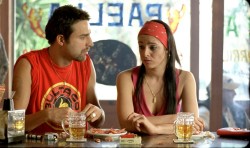 ---
KILL ME TENDER
(Haz conmigo lo que quieras)
Director: Ramón de España
Cast:Ingrid Rubio, Alberto San Juan, Emilio Gutiérrez Caba, Manuel Manquiña
Crew:Production Company: Star Line Productions, Madrid - Director & Screenplay Ramón de España - Producer: Juan Alexander - Executive producer: José Luis G. Arrojo - Line Producer: Antonia Reina - Music: Alfonso de Vilallonga - Director of photography: David Omedes - Film editor: José Salcedo - Production designer: Antxon Gómez - Costume designer: Joseph Massague - Sound mixer: Licio Marcos de Oliveira - Assistant director: Fernando Trullols - Casting: Amado Cruz
Sales:Ida Martins, Managing Director - Media Luna Entertainment GmbH & Co. KG. Hochstadenstrasse 1-3 D-50674 Cologne - Germany - T: +49 221 1392222 - F: +49 221 1392224
Email:festival@medialuna-entertainment.de
Synopsis
A recently widowed baker with a lot of dough. A sexy young lady big on sass but low on scruples. A bumbling ex-legionnaire who works for a debt-collecting agency dressed in a bunny outfit. Fickle fate has fused their lives into an explosive cocktail.
Trailer
About the director
Ramón de España Renedo, born in Barcelona (1956) finished the Media Studies at the Bellaterra Faculty (Barcelona). He began working as a journalist with the underground press at the end of the seventies and published several books about music and six novels and several humorous essays books. He has been a regular contributor to the newspaper EL PAIS since 1990 and a columnist for a weekly satirical magazine. He collaborated on the screenplay for the film Last Evenings With Teresa (Ultimas Tardes con Teresa) , by Gonzalo Herralde, and wrote the two screenplays for TV-movies. After several years of seeing his books on the verge of becoming films, he decided to get behind the camera himself and wrote the screenplay The Perfect Wave (La Ola Perfecta) taken on board by the producer Luisa Matienzo. Kill me Tender (Haz Conmigo lo que Quieras) was written virtually simultaneously as a screenplay and a novel. STAR LINE took over the screenplay and decided that Ramón de España should be entrusted with the direction of his first film. The author considers cinema to be a new medium for something he has been doing all his life in the press, novels, essays, comics and television: telling stories.
Filmmaker's note
This story is a black comedy, and owes much to films as diverse as El Verdugo (Not On Your Life) by Berlanga, and Fargo, by the Coen brothers. It is a love story with a large dose of the grotesque. It could be told "straight", but then we would merely have an unnecessary remake of The Blue Angel. I prefer the story to have dramatic content within a humorous form, perhaps because it is a register I have used previously in my novels and with which I have always felt very comfortable. And not just in terms of style: I consider life to be a tragicomedy, with its horrendous and its hilarious moments. Consequently, opting for a single response (laughter or crying) when portraying life, produces an incomplete result. I see Kill me Tender as a restrained film, with no stylistic fireworks, closely linked to the visual world of the above-mentioned Fargo or to Happiness, by Todd Solondz. Conceptually, Kill me Tender is aimed at a broad spectrum of the public. This film aims to provoke laughter in the only way the author considers intelligent: by offering a disturbing message (love causes pain, but is necessary) wrapped in comedy, which throws into relief the grotesque nature of the passion we have all needed at one time or another in our lives in order to carry on.
Related links