1/1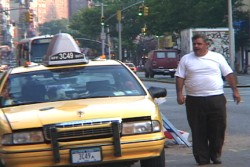 ---
ROLLING FOR JESUS
World Premiere
United States, 2003, 36 min
Shooting Format:MiniDV
Festival Year:2004
Category:Documentary Short
Cast:Philip Frabosilo
Crew:Producer: Erica Sashin - Editor: Katy Finch - Cinematographer: Erica Sashin - Score: Sager - Rolf
Sales:Wide-Eyed Productions, Brooklyn, NY - T: (646) 319-8988
Email:erica@partisanpictures.com
Synopsis
Philip Frabosilo is a minister in New York City. His church: a yellow cab, medallion number 3C49. Lovingly adorned with personal photographs, plastic flowers, and whimsical toys, Philip's partition-less cab is designed for comfort and decorated to encourage conversation. Philip's rolling ministry is a place of refuge, peace, comfort, and for those who are open to it, religious counsel. We will join Philip on his daily journey through New York City and discover that he is much more than just a cab driver or a man of God. Philip's outreach extends beyond the confines of his taxi to the city streets, where he is a champion to the hungry and homeless, a counselor to those in distress, a man on a mission to help anyone in need. Brother Phil visits breakfast cart vendors each morning to pick up their leftover bagels and muffins. The vendors know Philip and greet him with a smile, glad to help this quirky cab driver help others. With an overflowing cab, Philip continues to pick up fares, while at the same time distributing food. He beckons the hungry and homeless to the window of his cab, providing them with a bagel or a muffin, sometimes also a clean change of clothes. With his faith in the Lord, Philip Frabosilo persists in spreading his message of Christianity to those in need. His hope is that even if they do not learn to have faith in God, they will at least achieve faith in life.
About the director
Erica Sashin has been working in documentary film since graduating from Barnard College / Columbia University with a degree in Cultural Anthropology, in 1995. For four years she worked for National Geographic Television, running their archival film office in New York City. Since then, she has been working on a wide range of freelance projects for PBS, National Geographic Television, The Discovery Channel, and BBC. Erica resides in Brooklyn, NY with her fiancé Spencer and her iguana, Esmeralda. This is her first independent documentary.
Notes
The director Erica Sashin will be available for Q&A after the screening. Editor Katy Finch will also be in attendance.
Related links