1/1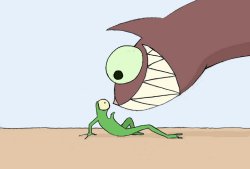 ---
FROG
Director: Christopher Conforti
United States, 2004, 4 min
Festival Year:2005
Category:Animation
Cast:Marc Tatti, Garret Koeppicus, Melissa Jordan, Christopher Conforti
Sales:Christopher Conforti, Director - Brooklyn, NY - T: (718) 238 3453
Email:cecon40@aol.com
Synopsis
My film is about a frog who in his search for water, finds himself evading panic-stricken swimmers, a vicious house cat, and eventually passes through the human digestive system before reaching his salvation in a tranquil lake.
About the director
Born in Brooklyn, New York Christopher Conforti began drawing at an early age, mostly dinosaurs. He later moved to Wellington, Florida and began taking drawing and painting lessons at the Zolet Arts Academy. While studying visual arts, Chris always had an interest for animation, and after watching a special on television showing animators flipping their drawings, Chris began making flip cartoons out of notepads. He later attended the Dreyfoos High School of the Arts and was introduced to stop-motion animation through one of his sculpture classes. Chris and his friends then founded FMC Productions (Fred, Marc, and Chris) and made stop-motion films with action figures to coincide with book reports, though they usually had little to do with the books. Before graduating Chris made two more films, one of which, Going Places won 1st Place in a student video competition at the Palm Beach Institute for Contemporary Art. After high school, Chris moved back to New York City to study traditional animation at the School of Visual Arts. There, Chris made two films, Concrete Calamity and Frog which has won numerous awards including a College Television Award and has screened in over a dozen festivals worldwide. Conforti now lives in Brooklyn again as a freelance artist/animator and has worked with such studios as Nickelodeon and Little Airplane.
Notes
Director Christopher Conforti will be available for Q&A after the screening.
Related links