1/1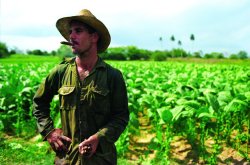 ---
1976
World Premiere
United States, 2004, 3 min
Festival Year:2005
Category:Animation
Cast:Ensemble cast from cuba
Crew:Photography: rainer ziehm & lisa fjeld - Original Score: rjd2
Sales:rainer ziehm c/o leftchannel, 243 North Fifth Street suite 401- Columbus, Ohio 43215 - T: 614.221.6911
Email:rainer@leftchannel.com
Synopsis
Art becomes life, and life becomes art. 1976 journeys through the ghettos and farmlands and lifestyles of Cuba as scenes build and unfold blurring the distinction between the ideology of propaganda and the everyday reality of struggling to survive.
About the director
Established in 2003 and headed by Alberto Scirocco, leftchannel is a motion design studio comprised of multidisciplinary graphic design artists specializing in motion graphics, TV spots, music videos, broadcast identities, program titles and opens, animation and graphic design, advertising and broadcast graphics. Scirocco began his career in design and art in Italy before moving to the U.S., where he helped establish leftchannel in Columbus. An adjunct professor and head of the CCAD Motion Design program, Scirocco's passion for computer animation and motion graphics is a driving force behind the firm's decisively individualistic and pioneering capabilities adaptable in a multitude of fields including film, advertising, broadcast graphics, architecture, retail planning, digital installation, projection mapping and environmental design.
leftchannel's filmography
Filmmaker's note
The idea was to capture the flair of the music, which has a distinct Latino sound, and use its driving beat to visualize the lives and lifestyles of Cuba. The story begins with images of propaganda art lining the streets, as it actually does in Cuba. As we journey through one of the posters, art transforms into life, and we experience the actual lifestyles of the Cuban people - urban and rural. The video's ending ties back into the beginning as life transforms back into art. We now see the same Cuban street plastered with propaganda posters that upon a closer look are actual scenes we just experienced.
Related links