1/1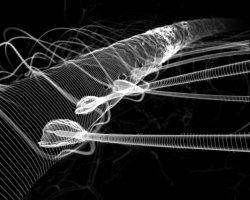 ---
ELECTRONIC PERFORMERS
US Premiere
Director: A. Ganzerli, L. Bourdoiseau, J. Blanquet
France, 2004, 6 min
Festival Year:2005
Category:Animation
Crew:Producer: MACHINE MOLLE - 3D and compositing: Armand Beraud, Thomas Cristiani, Vincent Dupuis, Jean-Francois Fontaine, Arnaud Ganzerli - Original Score: AIR
Sales:Nicolas Schmerkin, World sales c/o Autour de Minuit, 22 rue de Chauchat, 75 009 Paris, France - T: +33 1 40 47 97 75 - F: +33 1 40 47 07 70
Email:info@autourdeminuit.com
Synopsis
Has feeling got a physical representation? This video is the story of a feeling represented by a warm vibration spreading all over the body.
About the director
Arnaud Ganzerli was born on August 4, 1974. A very talented 3D Modelizer.
Jerome Blanquet was born on June 27, 1972 in Auxerre. Vj Performer since 97 and has many projects as far as 3D animation is concerned.
Laurent Bourdoiseau was born in Milan on September 16, 1970. He has directed a music video for HENRI SALVADOR (" Chambre avec vue "), and some others for GINKGO and Soul Wax.
Related links