1/1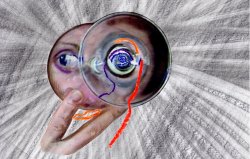 ---
UNGUARANTEED VINTAGE
(Appellation Incontrolee)
World Premiere
Director: Alphonsine David
France, 2005, 3 min
Festival Year:2005
Category:Animation
Crew:Sound: Fernand Zacot
Sales:Alphonsine David, Director - PARIS, FRANCE - T: +33 1 43 56 66 37
Email:alphonsine-david@wanadoo.fr
Synopsis
The changes and expressions of a face induces us to obsessions and mental images. Fast sequences, recurrent topics flow to an "unguaranteed vintage" trip, where the "who am I ?" will bring up the question of alterity.
About the director
Alphonsine David. Born in France, painter, sculptor, plastic art, Art video films. Lives and works mainly in Paris.
Notes
Director Alphonsine David will be available for Q&A after the screening.
Related links