1/1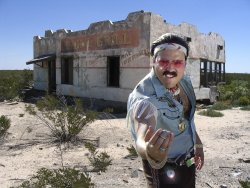 ---
RIO PELIGROSO: A Day in the Life of a Legendary Coyote
World Premiere
Director: Duane Graves & Justin Meeks
United States, 2004, 25 min
Shooting Format:MiniDV
Festival Year:2005
Category:Narrative Short
Cast:Justin Meeks, Patrick McHugh, Nelda Steelhammer, Patrick McDonnell, James Bargsley
Crew:Screenwriter: Justin Meeks - Cinematographer: Duane Graves - Original Score: David Turnbow, Jeff McElwee and Cuatro Caminos - Costume Designer: Donna Cerkan - Production Designer: Dale Meeks
Sales:Justin Meeks c/o Trisomy Films/Greeks Productions, 2111 Malvern Hill Drive Austin, Texas, 78745 - T: 512-619-6918
Email:smokinfrog@hotmail.com
Synopsis
This comedy short follows the antics of Julio 'The Pepper' Chavez, an honest-to-goodness 'coyote' working in a tiny, dilapidated South Texas border town. A self-proclaimed legend, the thick-accented Pepper prides himself in giving the gift of freedom by ushering Mexican nationals illegally into the United States. For a price, of course.
About the director
Duane Graves was born and raised in San Antonio, Texas. After receiving a degree in TV/Film from Texas A&M - Corpus Christi, he shot, edited and produced the critically-acclaimed documentary Up Syndrome, an intimate portrait of his childhood chum Rene Moreno who was born with Down Syndrome. Partially funded by the Austin Film Society, the documentary won several awards at festivals across the country including the 2001 Slamdance Film Festival and is currently distributed on DVD by CineClix. Today he is continuing his film studies at the University of Texas in Austin.
Justin Meeks was born and raised in Corpus Christi, Texas. After receiving a double major in Psychology and TV/Film from Texas A&M - Corpus Christi, he moved to Austin to collaborate with Duane Graves and pursue film acting and screenwriting. Their first film, a short experimental horror movie titled HEADCHEESE, was released internationally on DVD by EI Independent Cinema. He then wrote and co-directed their sophomore effort, Rio Peligroso: A Day in the Life of a Legendary Coyote. He currently is a published poet, musician and runs a construction sales company in Austin.
Duane Graves & Justin Meeks' filmography
Notes
Cast & Crew will be available for Q&A after the screening.
Related links