1/1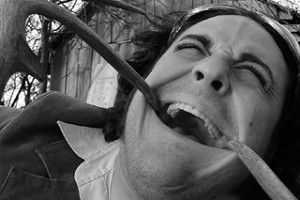 ---
HEADCHEESE
East Coast Premiere
Director: Duane Graves & Justin Meeks
United States, 2002, 22 min
Shooting Format:16mm
Festival Year:2002
Category:Experimental
Cast:Justin Meeks - Quentin Guerrero as MORTAL - Rene Moreno as DEMON
Crew:Producers: Duane Graves, Justin Meeks, Kim Henkel - Screenwriter: Justin Meeks - Cinematographer: Duane Graves - Editing, Original Score, Sound: Duane Graves and Justin Meeks
Sales:Trisomy Films - PO Box 27156 - Austin, TX 78755 T: (210) 363-6874 - F: (512) 443 3453
Email:duane@trisomyfilms.com
Synopsis
Loosely based on a chapter in the New Testament, "Headcheese" is the gritty account of a deranged man's unholy psyche while on a bizarre pilgrimage to Quick Hill, Texas, to rid his soul of feeble-minded parasites.
About the director
Duane Graves was born and raised in San Antonio, Texas. After receiving a degree in TV/Film from Texas A&M - Corpus Christi, he shot, edited and produced the critically-acclaimed documentary Up Syndrome, an intimate portrait of his childhood chum Rene Moreno who was born with Down Syndrome. Partially funded by the Austin Film Society, the documentary won several awards at festivals across the country including the 2001 Slamdance Film Festival and is currently distributed on DVD by CineClix. Today he is continuing his film studies at the University of Texas in Austin.
Justin Meeks was born and raised in Corpus Christi, Texas. After receiving a double major in Psychology and TV/Film from Texas A&M - Corpus Christi, he moved to Austin to collaborate with Duane Graves and pursue film acting and screenwriting. Their first film, a short experimental horror movie titled HEADCHEESE, was released internationally on DVD by EI Independent Cinema. He then wrote and co-directed their sophomore effort, Rio Peligroso: A Day in the Life of a Legendary Coyote. He currently is a published poet, musician and runs a construction sales company in Austin.
Duane Graves & Justin Meeks' filmography
Related links