1/1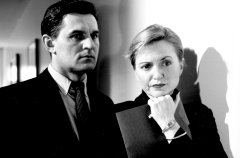 ---
NIGHTINGALE IN A MUSIC BOX
NY Premiere
United States, 2003, 96 min
Shooting Format:Beta
Festival Year:2005
Category:Narrative Feature
Cast:Kelley Hazen, Catherine O'Connor, Andrzej Krukowski
Crew:Producers: Todd Slotten & Leigh Jones - Cinematographer: Michael Dunne - Sound: Saul Zaentz Film Center
Sales:Seth Kittay c/o All Channel Films Inc - 2662 Carmar Drive, Los Angeles, CA 90046, USA - T 323 654 5552 // Todd Slotten, Producer - Lincolnshire, Illinois , USA - T: 312-951-8054
Email:tslotten@district125.k12.il.us
Synopsis
NIGHTINGALE IN A MUSIC BOX is a prison escape movie for the 21st century. The prison is no longer made out of concrete and steel but out of the thoughts of the prisoner's own mind. When Robin McAlister is arrested trying to steal a new life-form invented to colonize the human brain and control people's memories, she claims to have no memory herself. Agent Burke arrives to deal with the menace of a technology that could change what it means to be human. She must pick her way through Robin's mind, figuring out what is real and what has been manufactured from the outside. Burke realizes the stakes are high: How easily can our mind be taken away from us? How quickly can our identity be changed? But she has no time to dwell on these questions as she fights to keep a dangerous new weapon from being released into the world.
Trailer
About the director
Besides being the writer-director-editor of NIGHTINGALE IN A MUSIC BOX, which won the Jury Prize in Excellence in Screenwriting at the 2004 Slamdance Film Festival, Hurt is also an award winning playwright. This Spring The Utopian Theater Asylum in Chicago produced his English language version of Aristophanes' BIRDS. His plays have been produced in New York, L.A. and Chicago. He received a Joseph Jefferson Citation for Outstanding New Work for his play WARHAWKS & LINDBERGHS. FERMAT'S ELEVATOR was a finalist for the HEIDEMAN AWARD at the Actors Theatre of Louisville's Humana Festival. Other produced works include REPEAT W/MADELINE and SLEEPWALKER. He started his career as a film editor, working with such directors as David Agosto and Shaz Kerr. Other films he has directed include RECONSTRUCTION, SERIOUS BUSINESS and UNTIL DAYBREAK. He is a graduate of Yale University.
Notes
Cast & Crew will be available for Q&A after the screening.
Related links