1/1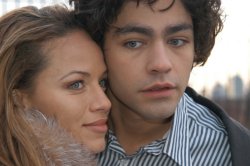 ---
A PERFECT FIT
NY Premiere
United States, 2004, 85 min
Shooting Format:Super 16
Festival Year:2005
Category:Narrative Feature
Cast:Adrian Grenier, Leila Arcieri, Polly Draper, Victoria Rowell
Crew:Producers: Ron Brown, Elana Pianko, G. Mac Brown - Editor: Joe Hobeck - Cinematographer: Learan Kahanov - Original Score: Michael Montes - Sound: Tammy Douglas - Production Designer: Tamar Barnoon - Costumes: Zulema Griffin
Sales:Ron Brown c/o Primary Process Productions, 255 West 88 Street, 6E - New York, New York 10024 - T: 212-877-7574 - F: 212-656-1586
Email:brownrf@verizon.net
Synopsis
An unstable man, tormented by nightmares, seeks help from a shrink but is pushed over the edge into increasingly dangerous, psychotic territory by a relationship he is unable to control. With wonderful performances from the lead actors, A Perfect Fit will keep you on the edge of your seat and make you question how well you really know your partner.
Trailer
About the director
Ron's short film, A Bedtime Story, screened at 35 film festivals worldwide, winning eleven awards. He wrote the feature screenplays A Perfect Fit, A Pocket Full of Posies, and Another Beautiful Day in Laramie. He wrote, produced, directed and edited the feature documentary Charles Pratt: His Life and Legacy. He has created corporate videos for American Express and Trendfund.com, and has directed and/or edited commercials for Sony, and Epic records.
Notes
Director Ron Brown will be available for Q&A after the screening.
Related links