1/1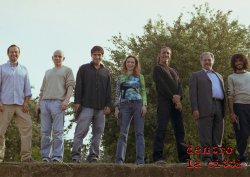 ---
CITY LIMITS
(dentro la citta')
US Premiere
Director: Andrea Costantini
Italy, 2004, 107 min
Shooting Format:35mm
Festival Year:2005
Category:Narrative Feature
Cast:EdoardoLeo, Luca Ward, Elisabetta Cavallotti, Rolando Ravello
Crew:Editor: Patrizia Ceresani - Cinematographer: Daniele Massaccesi - Original Score: The Dining Rooms - Sound: Andrea Moser
Sales:Rossio Moscoso, sales agent c/o variety communication, viale bruno buozzi, 84 Rome 00197 Italy - T: +39 06 36001417 - F: +39 06 36001407
Email:variety@iol.it
Synopsis
Superintendent Chessari is sent to run a small police station on the outskirts of Rome - a temporary posting in a difficult area, with not much backing and very few staff. His deputy, Lorenzo Corsi, is a youngster just out of the Academy, full of enthusiasm and high principles which clash with the corrupt reality of the streets and the attitude of his colleagues. The small police station seems like an outlying frontier post, a sort of backwater where recruits and hot-heads are assigned to rot. Chessari wants a quiet life, and all he does is set up a few routine operations; following suspects and tapping phones. He tries to avoid making waves that might upset his plans for career advancement. His men, however, are a bunch of loose canons, who are not intimidated by the rules or regulations imposed upon them and at times risk crossing the line of legality.
Trailer
About the director
Andrea started his career in production in 1987, working for both cinema and television. Rising from the role of a runner to that of Unit Production Manager, he has worked with many directors, Italian and international, such as Guy Ritchie, Jan Sardi, Mike Barker, Giuseppe Tornatore, Antonello Grimaldi, Stefano Reali, Bruno Corbucci, Mimmo Calopresti. Presently, he's the Executive Producer on the new film by Fulvio Ottaviano which will be distrubuted by Mikado and Kim Rossi Stuart (famous italian actor) director's debut
Notes
Director Andrea Costantini will be available for Q&A after the screening.
Related links