1/1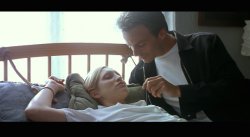 ---
EROSION
World Premiere
United States, 2005, 100 min
Shooting Format:35mm
Festival Year:2005
Category:Narrative Feature
Cast:Emmanuel Xuereb, Charis Michelsen, Lee Holmes, Oz Perkins, Jenya Lano
Crew:Producer: Peiti Feng - Editor: Anthony Cava - Cinematographer: Neal L. Fredericks - Original Score: Vincent Gillioz - Production Design: Chris Davis - Sound: Karen Hartman
Sales:Peiti Feng, Producer c/o No Face Pictures - 10 Orchard Irvine, CA 92618 - Tel: 949-551-9311 - Fax: 949-666-6150
Email:peitifeng@yahoo.com
Synopsis
Haunted by a failing relationship, a man devises a dangerous game for escape: breaking into strangers' homes to have sex with his accomplice, a married woman. House after house, they push the boundaries of pleasure and pain, attempting to defy reality by living stolen lives. But how far can they go before their past catches up with them? Experience EROSION and find out for yourself.
Trailer
About the director
Born and raised in China, Ann Lu came to the U.S. in 1993 to study in Tennessee. This drastic shift in culture helped to shape Ann's unique perspective for her films. In 1999, Ann wrote and directed her first feature film DREAMERS, which was the official selection of seven international film festivals and has won awards including Best Picture, Best Screenplay and Best Cinematography.
Filmmaker's note
EROSION is Ann's second feature film, which is inspired by her marriage to cinematographer, Neal L. Fredericks (THE BLAIR WITCH PROJECT). Unfortunately, this film is Ann and Neal's last collaboration. Shortly after the film's completion, Neal died in a tragic accident, paralleling EROSION's plot and making the film a poignant foreshadowing of its creators' lives.
Notes
Director Ann Lu, Producer Peiti Feng and Actor Emmanuel Xuereb will be available for Q&A after the screening.
Related links