1/1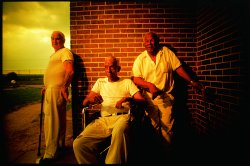 ---
PRISONERS OF AGE
East Coast Premiere
Canada, 2004, 48 min
Shooting Format:16mm, Dv-Cam
Festival Year:2005
Category:Documentary Short
Cast:Ron Levine
Crew:Editor: Shirley Anne Claydon - Cinematographer: Brian Johnson - Original Score: John Korsrud - Sound: J. Martin Taylor
Sales:Stan Feingold, Producer c/o The Eyes Project Development Corp., 2nd Floor - 1710 Columbia St. - Vancouver, B.C. Canada V5Y 4A1 - T: 604-602-1352 - F: 604-688-3977
Email:sfeingold@theeyes.ca
Synopsis
The people in the photos may look like your brother or your grandfather, but they are murderers and sex crime perpetrators, in jail for life - the self-described "garbage of society." We lock them up, but should we just throw away the keys and forget about them? "Prisoners of Age" is a point-of-view documentary about photographer Ron Levine's groundbreaking work with geriatric convicts. He dares to look where others turn away. His images are disturbing and affecting, macabre and poignant, straddling the thin line between retribution and redemption. The film immerses us in a rarely seen world, and in the personal tragedies of men who committed horrible crimes and will end their days inside prisons in Alabama and Ontario. Levine embarks on a series of photo shoots at the Hamilton Institute for the Aged and Infirm in Alabama, the first prison created specifically for elderly inmates, and Canada's largest prison, the Warkworth Institution in Ontario. Prisoners of Age asks a fundamental question: what becomes of an inmate who is too old or too ill to stay in the general prison population? Levine's skill as a photographer evokes empathy for the inmates' plight, but his images lead us to a second, more disturbing question: what about the justice demanded by the inmates' victims, their families and society at large? The heart of the film lies in this conflict between feelings of sympathy and the desire for punishment, while revealing Levine's role in staging this theatre of unresolved emotion.
About the director
Stan Feingold is an award-winning Writer/Director/Producer/Composer with a thirty-year track record in television, film, music and live theatre. His documentary films have explored social issues such as violence, poverty, prostitution and addiction, revealing hidden worlds of human tragedy. Stan has won over fifty awards, including "Best of the Festival" at the 2002 Yorkton Festival for Heroines.
Notes
Director Stan Feingold will be available for Q&A after the screening.
Related links