1/1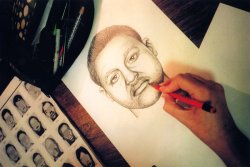 ---
CODE 33
Director: Beilinson, Hawley, Galinsky, Werner
United States, 2005, 82 min
Shooting Format:MiniDV
Festival Year:2005
Category:Documentary Feature
Crew:Directors: Michael Galinsky, Suki Hawley, David Beilinson, Zachary Werner - Editor: Suki Hawley - Cinematographer: Michael Galinsky - Original Score: Philip Quinaz, David Reid
Sales:Michael Galinsky c/o rumur inc - Brooklyn NY 11205 - T: 718-636-0949
Email:m_galinsky@yahoo.com
Synopsis
The summer 2003 search for the notorious Miami-Dade serial rapist is revealed in this engrossing behind-the-scenes documentary that reveals not only the rather eyebrow-raising methods of a police unit under siege, but also the diversity and strength of a shocked, scared and outraged community. "The following events take place in Miami during Summer 2003" read 33's opening credits, but to most Florida residents these events need no introduction. In June an 11-year-old girl is raped; within weeks the case turns into a nation-wide manhunt for a rapist responsible for several attacks. 33's cameras follow two Cuban-American detectives as they comb the streets of Little Havana for clues, speaking with concerned citizens, controversially browbeating others into "cooperating with the investigation," and dealing not only with the general public, but with other officers, media personalities and family members. Aided by a nationally known forensics artist, they distribute a sketch of the suspect around town, looking for a break that they know will come, even if it takes weeks, or months. Moving far beyond the clichéd slickness of CSI or the voyeuristic mindlessness of Cops, 33 is more than a portrait of crime, criminals or crime-stoppers. Capturing the divides between police and community, media and truth, and especially between illegal and legal immigrants, it uses one crime and the hunt to solve it as a window onto Miami itself, its landscape and its issues of diversity, immigration and human rights.
About the director
David Beilinson co-produced the acclaimed Horns and Halos (2002), directed by Michael Galinsky and Suki Hawley, co-directors of Half-Cocked (1995) and Radiation (1999). Beilinson also worked on the PBS documentary series In the Mix. Zachary Werner produced the award-winning short film, Chinese Dream, winner of the Golden Gate Award for Best Narrative Short Film at the 2004 San Francisco International Film Festival.
Notes
Michael Galinsky, Suki Hawley, David Beilinson, Zachary Werner will be available for Q&A after the screening.
Related links