1/1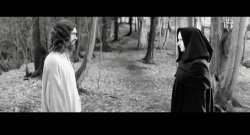 ---
FORSAKEN
Director: Antonio Galloro
Canada, 2004, 7 min
Shooting Format:35mm
Festival Year:2005
Category:Narrative Short
Cast:Ryan Ward, Paul Flynn
Crew:Producer: Jeremy Hood - Original Score: Henryk Gorecki
Sales:Galloro Productions, 400 Forest Fountain Drive Woodbridge, Ontario, L4H 1W4 Canada - T: 905-893-4773 - F: 905-857-9135
Email:agalloro@sympatico.ca
Synopsis
The temptation of Christ by Lucifer.
About the director
Raised in Toronto, Antonio Galloro studied photography and filmmaking at Humber College. After graduation he began working as a director/cameraman on commercials and music videos. With "Forsaken", Antonio Galloro has made his second venture into directing narrative film. His first short film "Nightshade" is currently in the festival circuit.
Notes
Director Antonio Galloro will be available for Q&A after the screening.
Related links