1/1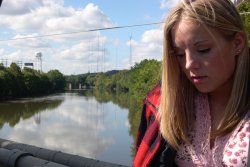 ---
MY SCARLET LETTER
NY Premiere
Director: Karen Dee Carpenter
United States, 2004, 10 min
Shooting Format:Super 16
Festival Year:2005
Category:Narrative Short
Cast:Rebekah Bonney, Jessica Brettle, Emily-Grace Murray, Rachael Kemery, Tobias Segal
Crew:Gaffer: Sunrise Tippeconnie - Sound: Malati Rao - Original Score: John Avarese - Sound mix: Philadelphia Audio Post
Sales:Karen Dee Carpenter c/o Bird Pictures, 1013A N. Leithgow St. Philadelphia, PA 19123 USA - T: (215)413-0909
Email:karendee@temple.edu
Synopsis
Marked as outsiders, Emily and her friends are searching for a quick escape from their small town on this Friday night. They long to break free from the claustrophobic confines of their rural existence. The idyllic landscape that surrounds them serves as a thin disguise for the closed-minded oppression that pervades their community. A backwoods boy and his car finally provide a way out but as the night wears on Emily realizes that no matter where she goes, she will always be from here.
About the director
Karen Dee Carpenter attended Tyler School of Art in Philadelphia and graduated with a B.F.A degree in Painting. Her artwork has been exhibited internationally and she has been the recipient of numerous awards including a Partners of the Americas Travel Grant for an exhibition of her paintings in Brazil. She has produced four short films for which she has received a Pennsylvania Council on the Arts Fellowship in both Filmmaking and Screenwriting. Her latest film, My Scarlet Letter, won Best Graduate Student Film at the 2004 Hamptons International Film Festival, and is an official selection of the Torino Film Festival among many others. She was a Finalist in AFI's Directing Workshop for Women and has been nominated for Kodak's Eastman Cinematography Scholarship. She is currently completing her M.F.A. degree in Film and Media Arts at Temple University.
Notes
Director Karen Dee Carpenter will be available for Q&A after the screening.
Related links