1/1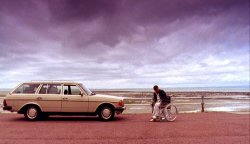 ---
BEROCCA
East Coast Premiere
England, 2004, 13 min
Shooting Format:Super 16
Festival Year:2005
Category:Narrative Short
Cast:Steve Varden, James Pelham, Darren Swift
Crew:Producer: Cecilia Testa - Screenwriter: Steve Varden - Editor: Dan Lavender - Original Score: Edward Daniel - Sound: Shane Carey - Production Design: Nicky Lowe
Sales:Martin Taylor c/o spartanfilms ltd, 32 Colville House Waterloo Gardens, London - E2 9HX - UK - T: +44 208 980 7417
Email:mail@spartanfilms.com
Synopsis
Kole, a disabled salesman, takes his autistic son from a care-home, and embarks on a road-trip across the north, to reunite his family; to take his estranged wife Linda, and his daughter on holiday to Blackpool. Linda dismisses this as another of Kole's pipe dreams, but the scene erupts when, her now husband Glenn, returns home. Escaping in his decrepit Mercedes, Kole goes in search of his son. On the desolate mudflats of northwest England, he finds the child, but the tide rises, the child wanders into the oncoming sea, and Kole lies alone, on the roof of a sinking car.
About the director
After working in Paris for three years in areas ranging from fashion photography to construction, Martin Taylor returned to London to work as a gaffer on pop promos, commercials, stills, and features, to fund the production of his own films. The short films he has made in the past few years are distinctive in their strong visual style and their preoccupation with characters and situations on the periphery of life.
Notes
Director Martin Taylor will be available for Q&A after the screening.
Related links