1/1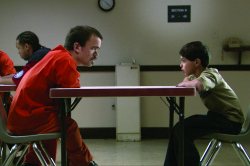 ---
LITTLE FUGITIVE
East Coast Premiere
Cast:David Castro, Nicolas Marti-Salgado, Peter Dinklage, Justina Machado, Brendan Sexton III, Lois Smith, Sophie Dahl, Raquel Castro, Austin Talynn-Carpenter, Shortee Redd, Javier Picayo
Crew:Producers: Frederick Zollo, Vince Maggio, Joanna Lipper, Nick Paleologos - Screenwriter: Joanna Lipper - Executive Producer: Cathrine Stickney Steck -Co-producer: Mary Engel - Cinematographer: Richard Sands - Editor: Keith Reamer - Original Score: Barrington Pheloung
Sales:Andrew Herwitz, Sales Agent c/o The Film Sales Company, 51 Lafayette Street, Fifth Floor, NY NY 10013 - T: (646) 274-0945 - F: (646) 274-0923 - E: andrew.herwitz@filmsalescorp.com
Email:info@littlefugitive.com
Synopsis
Joey and Lenny don't realize how much they love each other. Like so many siblings, they fight often. Each brother sometimes wishes the other were dead. One day both boys are forced to discover what it might really feel like if this wish came true.
With his father in jail and his mother working long hours at a nursing home, Lenny is burdened with the responsibility of looking after his seven-year-old brother, Joey. On his twelfth birthday, Lenny plays a practical joke on his little brother. Believing that he has accidentally killed his brother, Joey runs away to Coney Island, convinced that he can never go home again. Lenny searches for Joey. As night falls and Joey does not return, Lenny fears the worst. He regrets his actions and becomes more and more desperate to find his little brother-alive and unharmed.
Set in present-day Brooklyn, Little Fugitive is a contemporary remake of the 1953 classic.
About the director
Joanna Lipper is a filmmaker and author. She holds a B.A from Harvard, and an M.Sc in Psychology from University College London and The Anna Freud Centre. Her first documentary, "Inside Out: Portraits of Children" premiered on the Sundance Channel, played in The Museum of Modern Art's New Documentaries Series, and received the Hollywood Discovery Award as well as the Prix Jeune Public at the Marseille International Festival of Documentary Films. Her second documentary, "Growing Up Fast" was distinguished by the Academy of Motion Picture Arts and Sciences as one of the outstanding short documentaries of 1999 and is available through premier educational distributor, Films For The Humanities and Sciences. Ms. Lipper's documentary film about teen mothers was the inspiration for her acclaimed book, "Growing Up Fast" (Picador, 2003). In collaboration with Cathrine Stickney Steck, Ms. Lipper currently runs Sea Wall Entertainment, a production company based in New York City.
Notes
Director Joanna Lipper will be available for Q&A after the screening.
Related links