Latest News: ROAD played on Showtime Networks in April, 2007.
1/1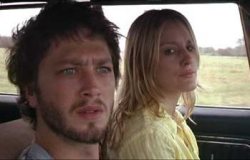 ---
ROAD
NY Premiere
Director: Leslie McCleave
United States, 2005, 92 min
Shooting Format:Super 16, Dv-Cam
Festival Year:2006
Category:Narrative Feature
WINNER: Best Original Score
Cast:Catherine Kellner, Ebon Moss-Bachrach, James Urbaniak, Peter Appel, Jayne Houdyshell
Crew:Producers: Zach Mortensen & Leslie McCleave - Screenwriter: Leslie McCleave - Editor: Jane Rizzo, Adam Lichtenstein - Cinematographer: Antoine Vivas-Denisov - Original Score: Chris Brokaw - Sound: Jaime Reyes - Associate Producer: Gill Holland - Casting Director: Susan Shopmaker
Sales:Zach Mortensen, Ghost Robot, 346 Grand St. Brooklyn, NY 11211 USA - T: 212 343-0900 - F: 212 898-1119
Email:roadthegreenmovie@gmail.com
Web:roadthemovie.com
Synopsis
Two ex-lovers set out on a road trip when Margaret (Catherine Kellner), a freelance photographer, gets her first big assignment: to survey environmental clean-up sites using the latest government-issued technology. Jay (Ebon Moss-Bachrach), her unemployed ex-boyfriend, comes along for the trip that increasingly goes awry. As they travel into a landscape filled with one abandoned environmental disaster after another, painful memories of their troubled relationship begin to emerge and the couple plunge into an emotional and physical limbo. Suddenly, backroads lead to nowhere, equipment fails, and Margaret and Jay inexplicably encounter the same foreboding characters over and over again, including a country music-loving-toxic-waste-hauling-big-rig driver (Peter Appel), and a doomed park ranger (James Urbaniak). Like Dante's The Inferno, an inspiration for the film, the couple circle through what looks and feels like a hell on earth as they try to navigate the roads between toxic waste sites and damaged love. Forced to confront the wasteland of their failed relationship, as well as their relationship to the environment and the world at large, the couple finally experience a long-deferred coming of age. With its stylized narrative, compelling performances, and supernatural backdrop, ROAD brings us to the heart of a disturbing social issue in an evocative story for our times.
Trailer
About the director
Leslie McCleave lives and makes narrative and documentary films in Brooklyn. Previous projects include the supernatural, environmental-awareness tale Road, which won the Outstanding Performance Award at the Los Angeles Film Festival and was acquired by Showtime; the 9/11 documentary installation cedarliberty project (with Elena del Rivero), presented at International Center of Photography and the New York State Museum; and the award-winning short films Avenue X; Blixa Bargeld Stole My Cowboy Boots (starring Michael Imperioli); and Meeting Marty. Her work has received support from New York State Council on the Arts, New York Foundation for the Arts, Creative Capital Foundation, IFP Radziwill Documentary Fund, National Endowment for the Arts and the Sundance Institute. How Sweet the Sound is her first documentary feature.
Leslie McCleave's filmography
Notes
Director Leslie McCleave will be available for Q&A after the screening.
Related links