1/1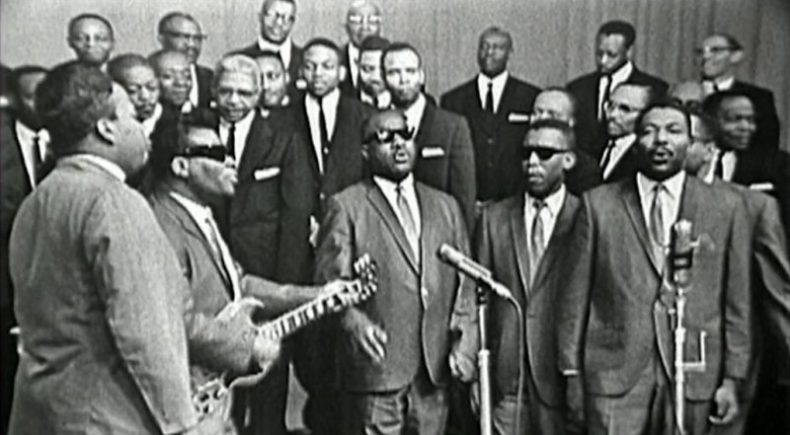 ---
HOW SWEET THE SOUND -- THE BLIND BOYS OF ALABAMA
East Coast Premiere
Director: Leslie McCleave
United States, 2015, 89 min
Shooting Format:Digital
Festival Year:2016
Category:Documentary Feature
Cast:Clarence Fountain, George Scott, Jimmy Carter, Bishop Billy Bowers, Ben Moore, Eric 'Ricky' McKinnie, Caleb 'Bobby' Butler, Tracy Pierce, Joey Williams, Johnny Fields, Roscoe Robinson
Crew:Producer: Leslie McCleave - DPs: Teo Maniaci, Ismael Ramirez - Sound: Judy Karp - Editors: Ed Norris, Yvette Torell
Email:howsweetthesoundmovie@gmail.com
Synopsis
Filmed over the course of ten years, How Sweet the Sound is the first film to tell the story of this legendary gospel quartet. The Blind Boys of Alabama met as children in the 1930's at a state-run segregated vocational school and would become one of the last great gospel quartets, traversing the famed "gospel highway" and beyond. As the surviving band members recount their unlikely success story, we see a rare, frank view of life on and off the road with these renowned performers, now in their 70's and 80's.
Trailer
About the director
Leslie McCleave lives and makes narrative and documentary films in Brooklyn. Previous projects include the supernatural, environmental-awareness tale Road, which won the Outstanding Performance Award at the Los Angeles Film Festival and was acquired by Showtime; the 9/11 documentary installation cedarliberty project (with Elena del Rivero), presented at International Center of Photography and the New York State Museum; and the award-winning short films Avenue X; Blixa Bargeld Stole My Cowboy Boots (starring Michael Imperioli); and Meeting Marty. Her work has received support from New York State Council on the Arts, New York Foundation for the Arts, Creative Capital Foundation, IFP Radziwill Documentary Fund, National Endowment for the Arts and the Sundance Institute. How Sweet the Sound is her first documentary feature.
Leslie McCleave's filmography
Notes
Director Leslie McCleave will be available for Q&A following both the June 4 and June 10 screenings at Wythe Hotel.
Related links