1/1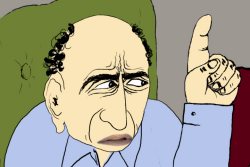 ---
THE NUCLEAR PHYSICIST GIVES HIS SON FREE ADVICE
World Premiere
United States, 2006, 16 min
Festival Year:2006
Category:Animation
Sales:Hanan Harchol, New York, NY
Email:hanan@hananharchol.com
Synopsis
In this funny and poignant animated short, the animator has impersonated the voices of his Israeli parents. The parents provide their "words of wisdom" on life, career, relationships, love, marriage, and everything else.
About the director
Hanan Harchol received a BFA with Highest Honors from The Mason Gross School of the Arts, Rutgers University, where he was a four-year Merit Scholar. Harchol was the recipient of a 1998 New Jersey State Council on the Arts Fellowship, and in 2002 received an MFA from The School of the Art Institute of Chicago. Harchol was awarded The 2004 Ronnie Heyman Prize, by The National Foundation for Jewish Culture. Currently Harchol is working on a series of animations. At the heart of the animations is a character, "The Nuclear Physicist", based on Harchol's father, an Israeli nuclear physicist of Eastern-European Jewish heritage. In the animations and videos, Harchol impersonates his parents' voices. Harchol's animations have screened in numerous film festivals worldwide.
Notes
Director Hanan Harchol will be available for Q&A after the screening.
Related links