1/1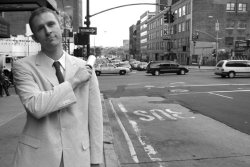 ---
I LOVE MY SUIT
World Premiere
United States, 2006, 11 min
Shooting Format:16mm
Festival Year:2006
Category:Narrative Short
Cast:Paul Swinnerton, Carolina Zaballa
Crew:Cinematographer: Carlos Leitao - Screenwriter: Peter Brogna - Editor: Vladimir Kubinski - Original Score: Jonathan Dinerstein - Costumes: Maria De Souza - Visual Effects: Ryan Carey - Production Designer: Joe Elsner
Sales:Peter Brogna, c/o PB Productions - New York, NY - T: 917.307.7141
Email:brogna@ilovemysuit.com
Synopsis
A man wears a seersucker suit all the time.
About the director
Peter Brogna was born and raised in New York City. He wrote the screenplay for "I Love My Suit" while working as a production assistant. His next project is a feature film titled, "Marble Hands," which is currently in development.
Notes
Director Peter Brogna will be available for Q&A after the screening.
Related links