1/1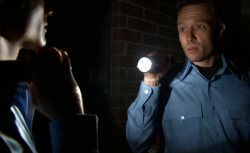 ---
VANCOUVER
US Premiere
Canada, 2005, 11 min
Shooting Format:DVCam
Festival Year:2006
Category:Narrative Short
Cast:John Pyper, Ferguson, Ryan McDonell
Crew:Producers: Emily Alden, Carwyn Jones, Natasha Nystrom - Editor: Jason Schneider - Cinematographer: Catherine Lutes - Sound: Jeff Carter
Sales:Emily Alden c/o Paddy Wagon Pictures, - T: 604 537 7986 - F: 604 985 5913
Email:ealden@telus.net
Synopsis
It's 3am in the city of Vancouver. Two cops make a startling discovery when they respond to a report of a disturbance at an elementary school.
About the director
Jesse McKeown studied creative writing at the University of British Columbia and went on to write for the CBC television drama "Da Vinci's Inquest." In 2003 he write and directed the short film "The Big Charade" which screened in numerous festivals around the world, and was awarded the short film prize at the Vancouver International Film Festival. He is currently Writer/Executive Story Consultant on the upcoming series "Da Vinci City Hall."
Notes
Director Jesse McKeown will be available for Q&A after the screening.
Related links