1/1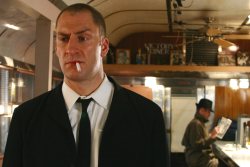 ---
THEY'RE MADE OUT OF MEAT
Director: Stephen O' Regan
United States, 2005, 8 min
Shooting Format:35mm
Festival Year:2006
Category:Narrative Short
Cast:Tom Noonan, Ben Bailey, Gbenga Akinnagbe, Brenda Della Casa, Steven Campenella
Crew:Producer: Sean Clauson - Screenwriter: Stephen O' Regan & Terry Bisson - Cinematographer: Paul Niccolls - Original Score: Bob Reynolds
Sales:Stephen O' Regan c/o Freeloader Productions, 76 Park Avenue, Sandymount, Dublin 4, Ireland.
Email:freeloaderproductions@eircom.net
Synopsis
A strange conversation about an unusual discovery. Based on the award winning short story by writer Terry Bisson. Staring acclaimed NY actor Tom Noonan, and Cash Cab presenter and stand up Ben Bailey.
About the director
Stephen O' Regan was born in Sligo, Ireland. After completing a Radio Broadcasting course in Dublin, he studied directing at the New York Film Academy. He considers "They're Made Out Of Meat" to be his first proper film. He wants to make more!.
Notes
Director of Photography Paul Niccolls will be available for Q&A after the screening.
Related links