1/1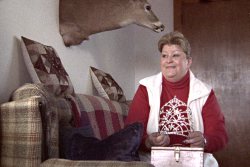 ---
MUSKRAT LOVELY
NY Premiere
Crew:Editor: John Young - Cinematographer: Jerry Risius - Sound: Felix Andrew
Sales:Matt Henderson, Seventh Art Releasing - 7551 Sunset Blvd., Suite 104, Los Angeles, CA 90046, USA - T: 323 845 1455 - F: 323 845 4717
Email:seventhart@7thart.com
Web:www.7thart.com
Synopsis
Every year in the town of Golden Hill, Maryland, contestants gather for two important competitions in the National Outdoor Show. Local high school girls compete to become "Miss Outdoors," queen of the show and its representative for the year, on the same stage that the world's best muskrat skinners compete to see who can skin the fastest. MUSKRAT LOVELY follows the events leading to the 50th crowning of "Miss Outdoors." It's an ironic and tender look at the yearly event of a close-knit community in a remote area of the Chesapeake Bay.
About the director
Amy Nicholson lives in New York City and has worked as an advertising art director for many years. While she has created numerous commercials for every imaginable type of product, she shot her first documentary two years ago, a short about the New York School of Dog Grooming entitled "Beauty School". The film screened at many film festivals including Hot Docs, The Atlanta Film Festival, and The Woodstock Film Festival, and is currently appearing on the PBS program "The Short List." She is currently doing research for her next film: a very serious piece involving plastic reindeer. MUSKRAT LOVELY is her first feature.
Notes
Director Amy Nicholson will be available for Q&A after the screening.
Related links