1/1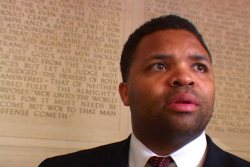 ---
CALL IT DEMOCRACY
NY Premiere
Crew:Producer: Dan Efram - Cinematographer: Derek Weisenhan
Sales:Matt Henderson, Distributor - Seventh Art Releasing, 7551 Sunset Blvd. Suite 104, Los Angeles, CA 90046 - T: 323-845-1455
Email:matt@7thart.com
Web:www.7thart.com
Synopsis
Call It Democracy is a fresh perspective on voting rights, election reform and the unresolved electronic voting controversies threatening to undermine confidence in the democratic system of USA. Nearly four years in the making, Call It Democracy begins when the vote counting stopped and mainstream media coverage ended. Illuminating interviews with respected academics, Congressional representatives and ranking judges outline the reality of what it means to vote in the U.S. today.
About the director
Matt Kohn has produced, edited and directed short and full-length films, music videos, industrials and documentaries for the past fifteen years.
Notes
Director Matt Kohn will be available for Q&A after the screening.
Related links