Latest News: OLGA KURYLENKO, Best Actress at BiFF 06, is the 22nd James Bond's Female Lead.
1/1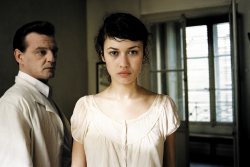 ---
THE RINGFINGER
(L'Annulaire)
NY Premiere
WINNER: Best Actor Female
Cast:Olga Kurylenko, Marc Barbé, Stipe Erceg, Edith Scob, Hanns Zischler
Crew:Producer: Bruno Berthemy - Screenwriter: Diane Bertrand based on the novel by Yoko Ogawa - Editor: Nathalie Langlade - Director of Photography: Alain Duplantier, Laurent Zeilig - Sound: Laurent Zeilig, Alexandre Widmer, Vincent Arnardi - Costumes: Pascaline Chavanne - Set: Thierry François - Production: Les Films du Veyrier - Co-production: Integral Film (Ger) & The Bureau (UK)
Sales:Paul Richer c/o Pyramide International, 5, rue du Chevalier de Saint George, 75008 Paris - T: (33) 1 42 96 02 20
Email:pricher@pyramidefilms.com
Synopsis
Iris is twenty years old and works on the assembly line of a fizzy drink factory. One day, she loses the tip of her ring finger in an industrial injury, leading her to quit her job and move to the port city nearby. Wandering the town, Iris comes across a laboratory of a very peculiar kind, where she is engaged as an assistant. Clients come in regularly, bringing with them all sorts of personal belongings they want processed and preserved forever in the laboratory. Without fully grasping what is at play around her, Iris gradually engages in a disturbing love affair with her enigmatic employer.
Trailer
About the director
Diane Bertrand was born in 1955. She studied Ethnology, Sociology and Economy at the "Université d'Aix en Provence". She spent many years in South America and Africa. After meeting Jean-Pierre Jeunet she eventually turned to cinema as main occuptaion and realised her first short film in 1986. "L'Annulaire" is her second feature film.
Notes
Director Diane Bertrand and actress Olga Kurylenko will be available for Q&A after the screening.
Related links