1/1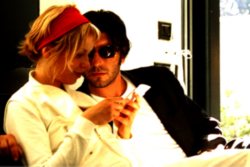 ---
BLOOD - DEATH DOES NOT EXIST
(Sangue - La Morte non Esiste)
US Premiere
Director: Libero De Rienzo
WINNER: Grand Chameleon Award and Best Narrative Feature
Cast:Elio Germano, Emanuela Barilozzi, Luca Lionello, Libero De Rienzo
Crew:Producers: Roberto Buttafarro, Valentina Pozzi & L.D.R. - Screenwriter: Libero De Rienzo, Regina Orioli, Giulio Calvani, Cristiano Cavina, Beba Slijepcevic - Cinematography: Francesco Di Giacomo - Editing: Libero De Rienzo - Sound: Fabio Felici - Sound Design: Marco Giacomelli - Original Score: Giardini Di Mirò - Costumes: Luisa Iemma
Sales:Rai Cinema, Piazza Adriana, 12, 00194 Roma, Italy - T: +39 06 68 47 01 - F: +39 06 68 72 015
Synopsis
Stella has just been accepted to the New York Ballet Academy but wonders how she will break the news to her over-dependent brother. Essentially estranged from the rest of the family, Yuri spends his days holed up in his apartment breeding mosquitoes, dealing drugs and obsessing over news reports of the suicide of a young girl. We follow them on a drug-propelled, day-long odyssey as Stella attempts to prepare Yuri for her departure. This gripping story of fear, longing and incestuous relationships interweaves visceral images, emotional intensity and Fellini-esque lunacy. With standout performances, including one by the director, this film masterfully presents a powerful indictment of modern society.
Trailer
About the director
Born in Naples, Libero De Rienzo began his career as a theatre actor in 1996 with the Catalan troupe Fura des Baus and the Area Teatro di Roma group. He made his screen debut in Fiore Altoviti's short film Il tesoro e la sposa, then, in 1999, played a young priest in Asini by Antonello Grimaldi and Claudio Bisio, followed the same year by Pupi Avati's La via degli angeli. This feature film is about a country village in the 30s whose inhabitants are preparing for the annual Ball. In 2001, he was cast by the notorious French director Catherine Breillat as the the young Italian seducer in her film, A ma soeur, dealing with the conflictual relationship and romantic rivalry between two sisters. The same year, Marco Ponti featured him in his film Santa Maradona, a portrait of a generation adrift, trying to find its bearings. Libero plays Bart, who shares a flat with Andrea, a former student who has just graduated, with whom he spends lazy days just talking. This role won him the David di Donatello prize for Best Suporting Actor. In 2003, he had a part in Richard Loncraine's TV film My House in Umbria, in which a group of four people find themselves forced to live together in a house after a terrorist attack. In Marco Ponti's madcap romantic comedy A/R Andata + Ritorno, he plays Dante Cruciani. "Blood, Death Does Not Exist" is Libero's directorial debut.
Filmmaker's note
Sangue is a film about life, about first love, which is eternal, that throws you into confusion, but which remains indelible. The film is the embodiment of my thinking; from the filming to the final edit, it is all my fault, and that of the books I've read, paintings that I've loved, people who have worked with me, all are co-creators of the film. (Libero De Rienzo)
Notes
Director Libero De Rienzo will be available for Q&A after the screening.
Related links