1/1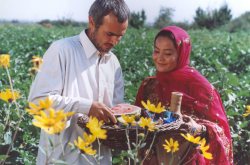 ---
THE LAST QUEEN OF THE EARTH
(Akharin Malakeye Zamin)
World Premiere
Director: Mohammad Reza Arab
Cast:Ghorban Najafi, Asghar Hemmat, Ali Azadnia, Ala Mohseni, Ali Akbar Peyghanbari, Hossein Taheri, Goli Akbari
Crew:Producer: Seyed Ali Reza Sajadpoor - Production Company: Soureh Cinema Organization - Screenplay Writer: Mohammad Reza Arab, Mohammad Torabi - Cinematography: Saed Nikzat - Editor: Varooj Karim Masihi - Set & Costume Designer: Mostafa Ale Ahmad - Sound: Hossein Bashash, Reza Narimizadeh - Make-up : Saied Malekan
Sales:Azita Farzaneh, Tehran , Iran - T: +98-21-88806682 F: +98-21-88805294
Email:pshahvand@sourehcinema.com
Synopsis
A simple yet powerful film about a young Afghani immigrant who works in a Henna grinding factory in Iran. As a US-led attack becomes more likely in the wake of 9/11, he attempts to return to Afghanistan to find his wife and family before war and chaos make it all but impossible.
About the director
Mohammad Reza was orn in 1966 in Tehran. Arab began his artistic career with making documentaries. He has also produced and directed some TV series. Arab was awarded many prizes for his success in the field of cinema.
Notes
Director Mr.Mohammad Reza Arab, the International Affairs Manager Mrs Maryam Naghibi will be available for Q&A after the screening.
Related links