1/1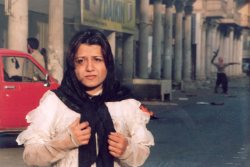 ---
AHLAAM
East Coast Premiere
Director: Mohamed Al-Daradji
WINNER: Best Actor Male and Spirit Award
Cast:Aseel Adel, Bashir Al-Majid, Mohamed Hashim
Crew:Producer: Atea Al-Daradji - Screenwriter & Cinematographer: Mohamed Al-Daradji - Editor: Ghassan Abdul, Ian Watson - Sound designer: Sefi Carmel - Composer: Naseir Shamma
Sales:Marei Bauer c/o mdc int. GmbH, Berlin Germany - T: 49-30-264 979 00 - F: 49-30-264 979 10
Email:festivals@mdc-int.de
Web:humanfilm.org
Synopsis
Scarred Baghdad 2003... Confusion, uncertainty and death engulf the bombed ruins of a psychiatric asylum. Voyeuristically we move between the past and present of three Iraqi lives entangled by the chaos of the American 'Shock and Awe' campaign...
'Ahlaam' a bewildered young woman, confined to the asylum after witnessing the violent arrest of her fiancee on their wedding day... deeply bruised she lives a confined existence in a state of delusion. Brutally damaged at the hands of the regime, Ahlaam is left with little hope, only a dream...
Dr. Medhi, a hard working idealist, exiled to work at the institution despite his abilities, longs for a free Iraq, where humanity is cherished not brutalised by hatred and fear, where the human quest for truth and goodness will triumph over the brutality he witnesses... But will Medhi's spirit survive the devastation and his father's political past...
Ali, a patient and former soldier... once a proudly optimistic man eager to serve his country, now a shell-shocked shadow, traumatized by the American bombings of his platoon. Ali's fearless insanity of his war zoned nation may be the hospitals only hope as he roams the terrorised gun ridden streets for surviving patients... Ali's patriotism may save others but will it save himself...
About the director
Mohamed Al-Daradji was born in Baghdad in 1978. At the age of 15 he studied Theatre Directing at the Fine Art Institute in Baghdad. When he moved to Europe he continued his studies at the Media Academy in Hilversem/Holland. He specialized in Camera and after completing his course he worked for a variety of media production companies as a cameramen. His passion for cinema led him to join a Master of Arts course in Cinematography at Leeds Metropolitan University School of Art.
Filmmaker's note
What if, following the American "Shock and Awe" onslaught of Baghdad, the hopes, dreams and tragedy of three people whose lives are interwoven, can be seen to represent those of the Iraqi people as a whole?
Notes
Film Editor Ian Watson will be available for Q&A after the screening.
Related links