1/1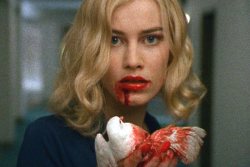 ---
LOOKING FOR ALFRED
US Premiere
Director: Johan Grimonprez
Belgium, 2005, 10 min
Shooting Format:35mm
Festival Year:2006
Category:Experimental
Cast:Zale Kessler, Bruce Ho, Ron Burrage, Delfine Bafort, Roger Swaine, Erik Grimonprez
Crew:Producers: Emmy Oost, Steven Bode, Corinne Castel - Editor: Nicolas Bacou - Cinematographer: Martin Testar - Original Score: Dominique Pauwels - Looking for Alfred (filmstill), Johan Grimonprez 2005, courtesy of Zapomatik / Film & Video Umbrella
Sales:Emmy Oost c/o Zapomatik, Gent, BELGIUM - T: +32 478 211 811 - F: +32 9 330 81 33
Email:info@zapomatik.com
Synopsis
What's your favorite Hitchcock film? Obsessed with de/reconstructing our corrupted visions of media, celebrity and appearance, Johan Grimonprez assembled a bewildering gaggle of Hitchcock lookalikes, staggering in girth and exacting in attitude, in a quest to find the most accurate specimen. The extent of such an endeavour is matched only by its fiendish yet stylish plot - recording them both in and out of character - whilst the would-be dopplegangers replay a selection of the trademark cameo appearances that Hitch made in his own flicks. The result could be seen as a dethroning of the Master of Suspense or as a celebration of iconography. Just don't take a shower before you see it!
"I thought I was safe until you guys came along, digging up all those others Hitchcock look-alikes. Now we will have to find ways of disposing of them..." (Ron Burrage, professional Hitchcock look-alike)
About the director
Praised by the London and the New York Times as "an eccentric rollercoaster ride through history," Johan Grimonprez' film Dial H-I-S-T-O-R-Y (1997), an exploration into the annals of airplane hijacking, garnered best director awards at the SAN FRANSISCO Film Festival and IMAGES TORONTO. Since its acclaimed premiere at CENTRE GEORGES POMPIDOU (Paris) and DOCUMENTA X (Kassel), the film has toured worldwide. The DVD, accompanied by contributions from DON DELILLO and SLAVOJ ZIZEK, is released by OTHER CINEMA (San Francisco), and in distribution with FACETS/MULTIMEDIA (Chicago) and IMAGEFORUM (Tokyo).
Johan Grimonprez is currently a faculty member at the SCHOOL OF VISUAL ARTS (New York). Acquisitioned by Trio NBC Universal (New York), ARTE TV (Germany/France), and Channel 4 (UK), his productions traveled the main festival circuit from TELLURIDE, TOKYO to BERLIN. Curatorial projects were host at major exhibitions and museums worldwide such as the WHITNEY MUSEUM (New York) and TATE MODERN (London); and amongst numerous collections they reside at the CENTRE GEORGES POMPIDOU (Paris), the KANAZAWA ART MUSEUM (Japan), and the NATIONALGALLERIE (Berlin). He is published with Hatje/Cantz (Germany) and spends his time between New York and Brussels.
In collaboration with ANNA SANDERS FILMS, (Paris), his production company ZAP-O-MATIK, is currently launching "LOOKING FOR ALFRED" (2006), a journey into the world of doppelgangers, starring Ron Burrage, professional Hitchcock look-alike. A first chapter premiered at the PHOTOGRAPHER'S GALLERY (London) and the PALAIS DES BEAUX-ARTS (Brussels). Acclaimed by the London Times, a.o., it won first price for the INTERNATIONAL MEDIA AWARD 2005 (SWR / ZKM).
A forthcoming project "ZUNK®" retraces the history of HAPPY ENDINGS. Selected for the Rotterdam Cinemart 2003, "ZUNK®" is now being developed at the MAURITS BINGER FILM INSTITUTE (Amsterdam) with support of the FLEMISH AUDIOVISUAL FUND (VAF, Brussels).
Related links