1/1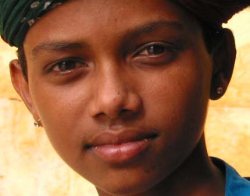 ---
MILK AND OPIUM
(Doodh Aur Apheem)
NY Premiere
India, 2005, 83 min
Shooting Format:MiniDV
Festival Year:2006
Category:Narrative Feature
WINNER: Best New Director and Best Actor Male
Cast:Swaroop Khan, Nizam Khan, Mohamad Khan, Manjoor Khan, Deepak Castelino
Crew:Producer & Screenwriter: Joel Palombo - Editor: Tenzin Tsetan - Cinematographer: Pankaj Bhakuni - Original Score: Mohamad Khan & Deepak Castelino - Sound: Gissy Michael
Sales:Joel Palombo, Producer - New Delhi, India
Email:info@milkandopium.com
Synopsis
Swaroop, a young Muslim boy from a caste of musicians, leaves his desert village in search of work with his Uncle Nizam. Swaroop is an innocent and curious 14 year-old boy who is discovering the world outside of his isolated village. Nizam takes opium regularly and scams money in any way he can. Swaroop and Nizam travel together, join Nizam's musician friends, and perform at roadside locations along the way. Nizam's greed and use of religious rhetoric lead to the break up of the small group of musicians and eventually to Swaroop heading off on his own in the city. Swaroop tries to adapt to his ever-changing circumstances of being a traveling musician in a world he has just discovered.
Milk & Opium leaves the viewer questioning what will become of Swaroop and traditional India. The film features outstanding traditional Sufi music with a twist of fusion. All of the actors play themselves in a unique neo-realist style cinema.
Trailer
About the director
An artist and a teacher, Joel Palombo has made several short films and video works. His short films have played most recently at the Dallas Museum, the 2005 Japan World Expo, and Planet In Focus Film Festival in Toronto. Originally from Detroit, Joel has been living in India for the last 8 years. Milk & Opium is his first feature film.
Notes
Joel Palombo will be available for Q&A after the screening.
Related links