1/1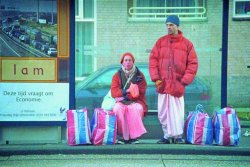 ---
OBSERVATIONS IN HOLLAND 3/4/5
East Coast Premiere
Director: Rob Britta & Hosman Smits
Netherlands, 2000, 30 min
Shooting Format:35mm
Festival Year:2001
Category:Documentary Short
Crew:producer: Marianne Rubsaam - cinematographers: R. Smits, Maarten Kramer
Sales:Rob Britta, Hosman Smits: T +31 20 6756623 - F +31 20 6756623
Email:airport@xs4all.nl
Synopsis
Observations in Holland is a truly rare piece. Made up of 6 ten minute micro-docs, the series explores what it is to be Dutch in an ever changing social and environmental landscape. As the title suggests, each film in the series takes an observational view of contemporary life in Holland. With effortless and almost laconic cinematography, Hossman and Smits breathe new life into both the observational and micro-doc forms. Moving from the riotously funny to the sublimely moving, Hossman and Smits create a poetic journey which draws on the basic principles of the observational form; making the ordinary extraordinary. The simplicity of the style allows the audience to be drawn into the lives of Hossman and Smits' subjects. Through no more than their everyday action, the characters are given a past, present and future which is beautiful to watch and completely tactile.
About the director
Britta Hosman started to work as a director on short items for Waskracht, a controversial magazine for young people on Dutch TV. Together with Rob Smits, Britta directed a serial of short documentaries called Observations in Holland.
Rob Smits worked as a cameraman for Dutch TV. As a director Rob joined Diogenes, an International Award winning documentary series for Dutch TV. Rob made his own first documentary called Graveyard Kremlin, a film about the relatives of former Russian heroes buried at the Kremlin Wall, Moscow.
Related links