1/1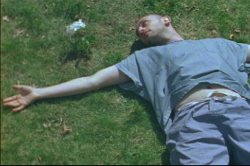 ---
buttons
World Premiere
United States, 2005, 16 min
Shooting Format:Super 16
Festival Year:2006
Category:Narrative Short
Cast:Boris kievsky, Caroline Kessler, Barbara Drum
Crew:Producers: Marcio Venturi, Cole Swofford, Hector Berrebi - Screenwriter: Cole Swofford - Editor: Hector Berrebi - Cinematographer: Ryo Murakami - Original Score: George Bakter - Sound: George Bakter - Flame Artist: Raul Sanchez
Sales:Hector Berrebi, Tel Aviv, Israel - T: 972505683859
Email:slow_air@yahoo.com
Synopsis
Billy is gone forever. Bobby knows she will not visit again, he is alone now. In a rundown boardinghouse where he spends his days gazing out windows to a world safely kept out of reach by fences. Bobby's surrounding is un-easing, capable of neither comfort, nor understanding for him. Can anyone reach? Will anyone? He holds on to a fragment of her... Making his invisible connections that no one else can see Bobby constructs a photograph of her, an image... a poem, to finds comfort in it, even if just for a brief instant, Bobby tries to say goodbye, for the last time.
About the director
Hector Berrebi was born in Israel, in 1977. at the age of 12 after receiving a small camcorder he started making movies and never stopped since. At the age of 17 he started his career as an editor. After working in editing and videography for several years, at the age of 23, he came to New York to study film at Brooklyn College there he produced and shot several short narrative and documentaries. He graduated with honors in 2005, "buttons" is his thesis film project. Today hector moved back to Israel where he started his own production company. He is working on pre-production for his first feature film planned to be shot in the fall of 2006.
Filmmaker's note
In "buttons" I intended to make a simple, visual film that tells a complex emotional story without using many words. A poem-film, that anyone, anywhere could understand.
Notes
Director Hector Berrebi will be available for Q&A after the screening.
Related links