1/1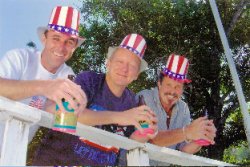 ---
NICKY'S BIRTHDAY CAMERA
East Coast Premiere
Director: Andrew J. Traister
United States, 2006, 93 min
Shooting Format:MiniDV
Festival Year:2007
Category:Narrative Feature
Cast:Robert Hays, Jamie McShane, John Walcutt, James Molina, Brian Lee Franklin
Crew:Producers: John Walcutt, Robert Hays, Sheri Hellard - Screenwriter: John Walcutt, Kurt Larson - Editor: Tanya Swerling - Cinematographer: C.B. Bissell - Original Score: Gregg Sarfaty
Sales:John Walcutt, producer - too nice guys, 1102 N. Brand Blvd. #30 Glendale, CA 91202 - T: 818 635-6745
Email:yesmrlee@aol.com
Synopsis
A 12-year-old boy's home video ruins his parents marriage, sends his father to jail, and solves a murder mystery. Shot completely from the boy's POV.
Trailer
About the director
Andrew Traister was born in Brooklyn. He received an NEA FELLOWSHIP GRANT and has directed at The Old Globe Theatre in San Diego, Geva in Rochester, The Pasadena Playhouse, and many other theaters around the U.S. NICKY'S BIRTHDAY CAMERA is the first film he's directed.
Notes
Writer/Producer/Actor John Walcutt, Director Andrew J. Traister and Actress/Producer Sheri Hellard will be available for Q&A after the screening.
Related links
www.TOONICEGUYSPRODUCTIONS.com