1/1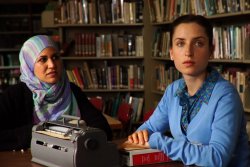 ---
ARRANGED
NY Premiere
Director: Stefan Schaefer & Diane Crespo
United States, 2007, 89 min
Shooting Format:HDCAM
Festival Year:2007
Category:Narrative Feature
WINNER: Grand Chameleon Award and Best Narrative Feature
Cast:Zoe Lister,Jones, Francis Benhamou, Marcia Jean Kurtz, John Rothman, Daniel London
Crew:Producers: Stefan Schaefer, Diane Crespo - Screenwriter: Stefan Schaefer - Editor: Erin Greenwell - Cinematographer: Dan Hersey - Original Score: Sohrab Habibion, Michael Hampton - Sound: Octavio Warnock-Graham - Executive Producer & Co-Story Writer: Yuta Silverman
Sales:Mark Litwak, Producer's Rep - Law Offices of Mark Litwak & Assoc., 433 N. Camden Drive Ste. 1010 Beverly Hills, CA 90210 - T: (310) 859-9595 - F: (310) 859-0806
Email:Law3@marklitwak.com
Synopsis
Two young women - one an Orthodox Jew, the other Muslim - meet and become friends as first-year teachers at a public school in Brooklyn. Over the course of the year they learn they share much in common, not least of which is that they are both going through arranged marriages.
Trailer
About the director
Stefan Schaefer and Diane Crespo are founders of Cicala Filmworks, and have worked together in theater and film for over ten years. In that time they have written, directed and produced award-winning one-act plays, music videos, documentary films and narrative features. ARRANGED is their debut feature working as a directing/producing team. They are longtime Brooklyn residents.
Notes
Directors Stefan Schaefer & Diane Crespo will be available for Q&A after the screening along with many of the supporting cast and crew.
Related links