1/1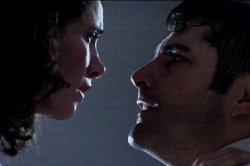 ---
BODY/ANTIBODY
World Premiere
Director: Kerry Douglas Dye & Jordan Hoffman
United States, 2007, 98 min
Shooting Format:Super 16
Festival Year:2007
Category:Narrative Feature
WINNER: Best Original Score and Audience Award
Cast:Robert Gomes, Leslie Kendall, Frank Deal, Deborah Gibson
Crew:Producer: Jordan Hoffman - Screenwriter: Kerry Douglas Dye - Editor: Evan Gatica - Cinematographer: Raoul Germain - Original Score: Charlie Schmid - Sound: Harmonic Ranch
Sales:Kerry Dye, Co-Producer - LeisureSuit Media, 792 Columbus Ave, #8J New York, NY 10025 - T: 212-663-0767
Email:body@bodyantibody.com
Synopsis
Kip Polyard (Robert Gomes) suffers from obsessive-compulsive disorder and hasn't left his Manhattan apartment in 10 months. When the beautiful Celine (Leslie Kendall) moves in next door, Kip is compelled to finally open his door ... to romance. But when Celine's ex-boyfriend Andy (Frank Deal) shows up, Kip realizes he's let in more than he bargained for, as Andy's jealousy -- and Celine's dangerous secrets -- threaten to dismantle Kip's carefully-ordered world.
Trailer
About the director
Kerry Douglas Dye and Jordan Hoffman met at NYU film school in the early nineties. Their first feature, Ultrachrist!, a satirical comedy, was released on DVD on 2004. In 2006 the pair began production on Body/Antibody. Mr. Dye based his script on his own struggles with obsessive-compulsive disorder, although he maintains that the bloodier parts of the film are entirely fiction. Dye and Hoffman's influences include Polanski, Bollywood, Cronenberg and Billy Wilder.
Notes
Filmmakers Kerry Douglas Dye & Jordan Hoffman will be available for Q&A after the screening.
Related links