1/1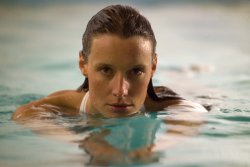 ---
SUNNY
US Premiere
Director: Thorsten Wettcke
Cast:Fabian Busch, Wanja Mues, Sandrine Guiraud, Kathrin Kühnel
Crew:Producers: Frank Kaminski, Ulrich Stiehm - Screenwriter: Thorsten Wettcke
Sales:Kaminski.Stiehm.Film GmbH, Gormannstr. 14, 10119 Berlin - T: 49.30.30878460 - F: 49.30.30878466
Email:info@kaminskistiehmfilm.de
Synopsis
Boris returns to his small hometown in the south of Germany, having built a career as a lawyer in Hollywood. Along with him arrives his model girlfriend Rebecca. Sandrine and Ulf, Boris' best friends from high school, invite them to stay at their home. The microcosm of a small town is suddenly confronted by the glittering world of the rich and beautiful. In the course of events, Boris discloses a surprising plan: he feels homesick and wants to return to small town life. But what is his real agenda?
About the director
Thorsten Wettcke (Germany, 1974) studied journalism and science of film in Mainz, Germany. His first film DEGENERATION X (1995) won prizes in several festivals. This great success encouraged him to quit university and to start working as a freelance writer and director. Since 1997 he has directed two movies with the German production company Wüste Film, based in Hamburg. With his co-writer Christoph Silber he founded the Berlin-based company Silber-Wettcke GbR in 2004. Thorsten Wettcke is represented by the agency La Gente (www.la-gente-agentur.de).
Notes
Director Thorsten Wettcke will be available for Q&A after the screening.
Related links