1/1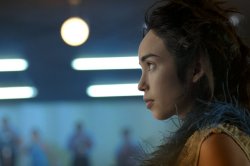 ---
MACHINE
(MAQUINA)
East Coast Premiere
Cast:Iazua Larios
Crew:Producers: IGOR LEGARRETA, EMILIO PEREZ, GABE IBANEZ, RAUL BERNABE - Screenwriter: ANAVAZQUEZ - Editor: ENRIC GARCIA - Cinematographer: ALEJANDRO MARTINEZ - Original Score:IBON ERRAZQUIN - Sound: SIRENA
Sales:Txema Munoz, Distributor - KIMUAK, Avda. Sancho el Sabio, 17 - trasera 20010 SAN SEBASTIAN, Spain - T: +34 943 115 511 - F: +34 943 469 998
Email:kimuak@filmotecavasca.com
Web:www.kimuak.com
Synopsis
A girl breaks through pain and bewilderment to discover her new essence and finds the way to reconcile with mankind.
About the director
A Universidad Complutense of Madrid graduate (Image Sciences) Gabe Ibañez started his career as a 3D visual effects artist. In 2001, he co-started up the Madrid based production company User T38. Since 2000 he has been directing commercials in Europe. Máquina is his first short film.
Notes
Director Gabe Ibañez will be available for Q&A after the screening.
Related links