1/1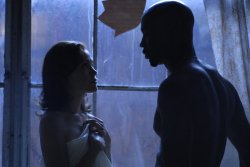 ---
FIRST.
NY Premiere
Director: DB Woodside & Nick Sivakumaran
Cast:DB Woodside, Reiko Aylesworth, Michael Goodfriend
Crew:Producers: Elgin Burnetter, Susan Munro, Chane't Johnson, DB Woodside - Screenwriter: DB Woodside - Editor: Susan Munro - Cinematographer: Will Eubank - Original Score: Chris Plansker - Sound: Jeff Dittenber
Sales:Craig Shapiro, Innovative Artists Agency, 1505 10th St, Santa Monica, CA 90401 - T: 310-656-5119 - F: 310-656-0456
Email:craig@iala.com
Synopsis
First love, first kill, first grace. Throughout our lives we experience love, loss, and, in rare instances, rebirth. Meet James Mooney, an American Professor who has been on the run for years due to his former occupation with the C.I.A. Meet Angelina Marveau, a fallen French nun struggling between her Catholic beliefs and her 'first' love, an American Professor with a bloody past and a nihilistic view of the world. Meet Illija Kustunica, a young Serbian assassin who gets his first assignment just hours after his newborn child enters the world. Three desperate lives crash, explode, and then converge in an irreversible series of "firsts".
About the director
DB Woodside, a graduate of the Yale School of Drama, has been acting professionally for the past ten years. His most notable roles are President Wayne Palmer on Fox's critically acclaimed drama 24, Principal Robin Wood on Buffy, The Vampire Slayer, and Melvin Franklin on the NBC mini-series The Temptations. DB is excited about entering the complex world of directing.
Nick Sivakumaran is an MFA graduate of the USC School of Cinema-Television. His thesis film, Diwali, won the DGA Student Film Award and was featured in the Kodak Emerging Filmmaker Showcase at the 2002 Cannes International Film Festival. Nick is currently teaching Directing and Cinematography at the New York Film Academy at Universal Studios, Los Angeles.
Notes
Director DB Woodside will be available for Q&A after the screening.
Related links