1/1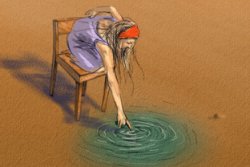 ---
WHAT IF SPRING DOES NOT COME?
World Premiere
Director: Alireza Darvish
Germany, 2007, 8 min
Festival Year:2007
Category:Animation
Crew:Producers: Alireza darvish & Mina Siegel - Editor: Sebastian Luhdo - Original Score: Naser Mehravar & Cali - Sound: Feri ToneStudio - Speaker: Hanne Ludho & katia Kanzler - Poet: Forugh Farokhzad
Sales:Mina Siegel, Co Producer - Brooklyn, NY 11230 - T: 718-343-1634
Email:a.darvish@gmx.de
Synopsis
It is the nature of life that sometimes what is possible for all become impossible for one. "What If Spring Does Not Come?" is a woman's voyage of discovery of herself, her dreams, and her proper place among these impossibilities. It is a poetic appreciation of women's effort and a tribute to their supreme place in life.
Trailer
About the director
Alireza Darvish was born in 1968 in Rash, Iran. In 1988 he graduated in History of Art and Painting from the Fine Arts Institute in Tehran. After studying and working in Germany, Spain and Prague he now lives in Germany. His work has been exhibited in numerous art galleries and museums in Europe and the Middle East.
Notes
Producer Mina Siegel will be available for Q&A after the screening.
Related links