1/1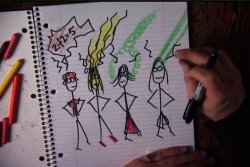 ---
THE WILLOWZ: WE LIVE ON YOUR STREET
East Coast Premiere
United States, 2006, 4 min
Shooting Format:MiniDV
Festival Year:2007
Category:Experimental
Crew:Producers: Joseph Krings, Michael Sládek - Editor: Joseph Krings - Original Score: The Willowz
Sales:Joseph Krings, Producer - Plug Ugly Films, New York, NY 10036 - T: 646.522.7419
Email:joseph@refinerynyc.com
Synopsis
The lo-fi animated video THE WILLOWZ: WE LIVE ON YOUR STREET was shot in one day and edited in one week. Directed and Illustrated by Michael Sládek, the video is a fun, energetic tale starring The Willowz as a group of mildly rebellious teenagers forced to take medication by their misguided parents. The heroes all develop destructive powers as a result and end up turning them on the monolithic pharmaceutical industry where medicating kids leads to high profits.
Trailer
About the director
Michael Sládek founded Plug Ugly Films Inc in 2000 as a production company through which he directs and produces feature films, web content, music videos, EPKs and TV spots. Past clients have included UNDERGROUND ONLINE, ARISTA RECORDS, rapper YOUNG BUCK and more. His feature film DEVILS ARE DREAMING won a Jury Award at Dances With Films 2004, was programmed in multiple festivals and received accolades from the press. His animated music video THE WILLOWZ: WE LIVE ON YOUR STREET won a second place award at Slamdance Film Festival 2007 and won a Slamdance Anarchy Online Competition award in 2006. Michael heads up development for Plug Ugly Films, writes screenplays and designs and authors all marketing materials including the website. He is currently directing and producing the documentary feature film CON ARTIST.
Notes
Producer Joseph Krings and Director Michael Sládek will be available for Q&A after the screening.
Related links