1/1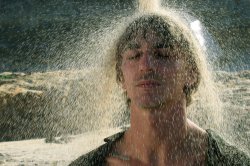 ---
BREATHE ME
NY Premiere
Director: Carmen Rozestraten
United States, 2006, 9 min
Festival Year:2007
Category:Experimental
Cast:Megumi Nakamura, Maya Theiss-Sakata, Alexandre Proia
Sales:Carmen Rozestraten, San Francisco, CA
Email:rcarmenrose@gmail.com
Synopsis
This exquisitely shot film takes us on the hypnotic voyage of a beautiful young woman through a playful and sensual collage of broken dreams.
About the director
Carmen Rozestraten was a professional dancer and is one of the founding members of Lines Ballet. She has danced with Alonzo King from 1978 till 1996. Since then she has taught for major dance companies in the U.S. and Europe. Carmen's films have been screening in festivals world wide and won numerous awards.
Carmen Rozestraten's filmography
Notes
Actor Alexandre Proia and Composer Miguel Frasconi will be available for Q&A after the screening.
Related links