1/1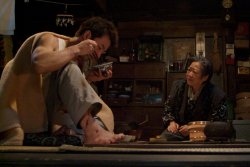 ---
HAJIME
East Coast Premiere
Japan, 2006, 12 min
Shooting Format:Super 16
Festival Year:2007
Category:Narrative Short
Cast:Kyoko Kozakura, Yukio Okuyama, Takashi Yuki, Akira Nagasawa, Yuki
Crew:Producers: K.Nawa, D.Yano, H.Takene - Screenwriter & Editor: Kenshin Nawa - Cinematographer: Hiroo Takaoka - Production Design: Fumitaka Sasaki - Original Score: Daisuke Yano - Gaffer: Yuji Wada - Casting Director: Kouko Yanagawa - Sound Record: Naomi Kumauchi - Sound Design: Yoichi Nishimura - Assistant Directors:Rikei Kubo, Kenichi Tokita - Location Coordinate: Tomonori Yoshida - Set Decoration: Jun Terao - Still Photographer: Yosuke Yano - Costume: Nao Fukuoka
Sales:Kenshin Nawa, Director, Producer - Tokyo, Japan
Email:aquarianvision@hotmail.com
Synopsis
An elderly couple live in a mountain village in Japan in the years after World War II. One night a young man comes to their home seeking shelter from the rain. The woman is delighted; due to her dementia, she believes that their son Hajime has returned from the war. Her husband, however, knows that their visitor is dangerous.
About the director
Kenshin Nawa is a Japanese filmmaker who works as a director for commercial and film productions in Tokyo. Nawa received his MFA degree in Film from Columbia College, Chicago.
Notes
Director Kenshin Nawa and Cinematographer Hiroo Takaoka will be available for Q&A after the screening.
Related links