1/1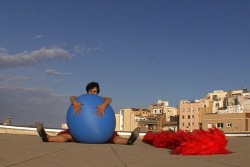 ---
AFTER THE WATER THE CLOUDS
US Premiere
Director: Carmen Rozestraten
Netherlands, 2009, 9 min
Festival Year:2010
Category:Experimental
Cast:Maureen Lopez, Carlos Fernandez, Anna Tejero
Crew:Producer: Carmen Rozestraten - Screenwriter: Carmen Rozestraten - Editor: Jennifer Chinlund - Cinematographer: Enric Miro - Original Score: Toni Marti - Sound: Philip Perkins
Sales:Carmen Rozestraten - San Francisco , CA 94110 - T: 1 415 553 8075
Email:rcarmenrose@gmail.com
Synopsis
Playful and poetic voyage of a young Catalan woman whose world becomes more and more surreal as she encounters mythical and unusual characters.
Trailer
About the director
Carmen Rozestraten was a professional dancer and is one of the founding members of Lines Ballet. She has danced with Alonzo King from 1978 till 1996. Since then she has taught for major dance companies in the U.S. and Europe. Carmen's films have been screening in festivals world wide and won numerous awards.
Carmen Rozestraten's filmography
Notes
Director Carmen Rozestraten will be available for Q&A after the screenings.
Related links