1/1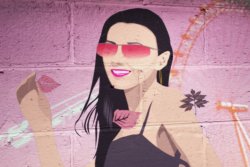 ---
FISSION
United States, 2006, 5 min
Festival Year:2007
Category:Animation
Cast:Jamil Shamasdin, Ayesha
Crew:Cinematographer: Johnny Gou - Original Score:Peter Clagett - Sound: Peter Clagett - Art Director: Daisy Shi Dai & Kun-I Chang
Sales:Kun-I Chang, Director - Forest Hills, NY, 11375 - T: 9172153031
Email:kunyichang@gmail.com
Synopsis
FISSION is a motion graphic film created by Kun-I Chang. It tells the simple story of a man who sees himself as graffiti on the wall. The captivating graphic starts to draw on the wall, following (and sometimes attacking) the man. The conflict becomes out of control along with the stunning graphic animation, and leads us to the end of the story- a metaphor of repetition and endless "FISSION".
About the director
Born in Taiwan, Kun-I Chang has been getting involve various design and art fields as a designer, animator, and a video Artist. He studied Communications design in Shih Chien University Taiwan and received his Master of Fine Art degree in School of Visual Arts MFA Computer Art in 2006. He is currently concentrating on motion graphic design not only as a Designer/Animator at Spontaneous, NYC, but also as an independent film maker and video artist in New York. Working and collaborating with different artists in various media, Kun-I creates work that contrast real life and the drawn image and always tries to promote motion graphic as a form of art. In the initial stage of Kun-I's artistic life, he participated in several exhibitions both in Taiwan and USA. After he earned his Master degree in SVA, he created his first short FISSION with a stunning visual imagination and penetrating insight into our image-obsessed culture. FISSION has won over 5 film festival awards and screening in over 20 film festivals world-wide.
Notes
Director Kun-I Chang will be available for Q&A after the screening.
Related links