1/1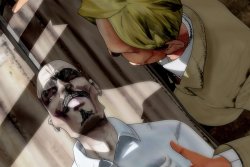 ---
MY DEAR SON
(Caro figlio)
World Premiere
Director: Antonio Giambanco
Italy, 2007, 5 min
Festival Year:2007
Category:Animation
Crew:Producer(s): IM*MEDIA - Screenwriter: Antonio Giambanco - Emilio Pursumal - Editor: IM*MEDIA - Cinematographer: 3D CG Animation - Original Score: Roberto Agrestini, Emilio Pursumal - Sound: Roberto Agrestini - Voice off: Filippo Luna
Sales:Livia Lombardi, producer - IM*MEDIA, via Generale Magliocco 27, Palermo, Italy - T: 0039091336826 - F: 0039091585933
Email:livia.lombardi@immediaonline.it
Synopsis
A father is murdered in a Sicilian cottage. Who is the murderer? A "moral will" explores the risks of a father-son relationship and leads to the revelation of the mystery.
Trailer
About the director
Born in Palermo on January 27, 1967. Antonio Giambanco holds a degree in classical studies from Palermo University. Since his childhood he has been interested in cinema and directing and he produced some short films that were selected in major national festivals. In 1995 he began working with IM*MEDIA rapidly rising to become director of multimedia with responsibility for the artistic direction of all projects produced by the company. Some of the most remarkable projects are the novels of "Commissario Montalbano", interactive 2D cartoons, that won the New Media Prize Bologna and received a Nomination at the Europrix Salzburg. Antonio is, at present, partner of the company. His unique style of digital communication has become the standard model within the company.
Notes
Antonio Giambanco and Emilio Pursumal will be available for Q&A after screening.
Related links