1/1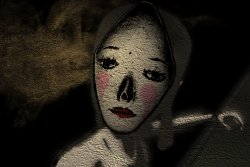 ---
MEMORIAL
NY Premiere
Director: Matt Clausen & Jon Gutman
United States, 2006, 6 min
Shooting Format:HDCAM
Festival Year:2007
Category:Animation
Cast:Emily Lucas
Crew:Original Score & Sound: Cosku Turhan
Sales:Sandrine Cassidy, Director of Festivals and Distribution - USC School of Cinema-Television, Office Of Festivals and Distribution, University Park Campus Los Angeles, CA 90089 USA - T: 2137404432
Email:cassidy@cinema.usc.edu
Synopsis
After witnessing the death of her father, a young girl's reality blurs with her memories as she journeys into the layered walls of her urban landscape. Struggling to fill the void of her unresolved feelings, she colors in her father's chalk outline and enters a world of grief and reconciliation where her fear and sadness take the form of painted and pasted street art characters.
Trailer
About the director
Matt Clausen and Jon Gutman are graduate students in the MFA Animation and Digital Arts Program at the USC School of Cinema-Television.
Notes
Co-director Matt Clausen will be available for Q&A after the screening.
Related links