1/1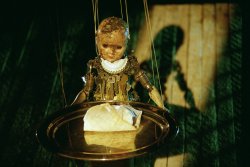 ---
IN THE HOUSE OF THE SIN EATER
US Premiere
Director: Paul Kloss & Matt Acheson
United States, 2006, 18 min
Shooting Format:MiniDV
Festival Year:2007
Category:Animation
Cast:Matt Acheson, Deana Headley Acheson, Tom Lee, Oliver Dalzell,
Crew:Editor & Cinematographer: Paul Kloss - Set Design & Puppet Design: Matt Acheson - Original Score: Bexar Bexar - Art Director: Deana Headley Acheson
Sales:Paul Kloss, Brooklyn, NY, 11238, USA - T: 718.813.8456
Email:paulkloss@mac.com
Synopsis
A man mourns his dead wife. He weeps at her bedside. Following Welsh folklore, he performs a ritual that helps the dead release their obligations to this world. He bakes a loaf of bread and places it on the body of his dead beloved. In that half-space between the Living and the Dead, her sins are absorbed into the bread. "In the House of the Sin Eater" creates a strangely moving world from miniature sets and hand-operated marionettes. In this tiny dreamscape, a recent widower must carry his wife's sins to the Sin Eater's house deep inside a forbidding forest. Feared and reviled by the townspeople, the Sin Eater performs his duties without complaint. And in an act of acceptance and transformation, we discover that the Sin Eater is less to be feared than treasured.
About the director
Matt Acheson is a puppeteer and puppet builder who has been working in theater and television for fifteen years. He designs his own marionettes out of found objects to create wonderful, expressive characters. Paul Kloss is a Cinematographer of twenty years of experience who longs to open his own bait shop and catch the giant lurking lunker of a catfish that has been terrorizing some quaint fishing hamlet for years.
Notes
Paul Kloss will be available for Q&A after the screening.
Related links